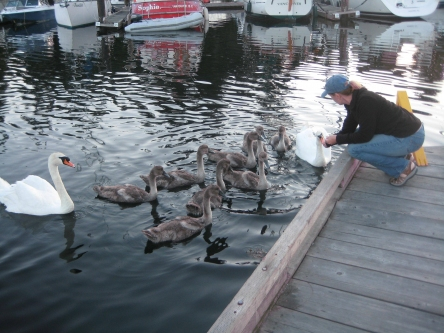 Swans cruise silently in the waters of Friday Harbor, Washington, close enough that you can almost touch them, but you can certainly photograph them when you vacation or live on the island.
Deciding to sell your home successfully comes with careful planning. You will need to make your home as attractive as possible to appeal to a wide buyers market. Here are a few ways to make your home marketable.
Tips to successfully sell your home
You will need to disassociate yourself from your house this means letting go of any emotional ties you may have. Soon your home will no longer be yours so it is best to prepare yourself in advance.
Pack away all your personal things such as photographs and ornaments, when your house goes on show you don't want to distract a potential buyer with your things. You want the buyer to imagine themselves living in your home.
Clear up any clutter, there is nothing worse than a home that is over crowded with stuff it makes rooms appear smaller. Here are a few ways to clear up the clutter:
Throw away or donate things you no longer use;
Pack your books away;
Make sure kitchen counter spaces are clear;
In the process you can start packing for the day you will need to move.
Be aware of the things potential buyers do when viewing your home
Buyers have been known to open cupboards and drawers in homes they view. A good way to relay the message that you have taken care of your home is to repack everything in these cupboards:
Stack dishes according to there sizes;
Face cup handles all the same way;
Arrange clothes cupboards neatly.
You may want to consider putting your excess furniture into storage. You will want to make the rooms appear as large as possible, make sure to leave some furniture behind as bare rooms can also send out the wrong message to buyers.
If there are any permanent fixtures in your home that you have decided you want to take with you when you move. You must take them out before your house goes on show, a buyer could set there heart on a home for that particular fixture. When you take the fixture out either replace it or make repairs to the place it was in.
You want your home to be in the best condition as possible in order to sell as fast as possible. Making some necessary repairs will save you money in the long run, these include:
Replace any tiles that have cracked;
Patching up any existing holes in walls;
Fix any leaking taps;
Repaint your walls a neutral color if you have a strange color that may not appeal to every one;
Fix any door handles or knobs that may have become loose;
Make sure your linen is in good condition for show days;
Replace any light bulbs that may have burnt out.
Make sure your house is clean before the show day:
Wash all your windows;
Get rid of all cobwebs;
Spray down your driveway and side walks;
Polish mirrors and chrome surfaces;
Clean out your refrigerator;
Vacuum the whole house;
Wax floors;
Get rid of any moldy odors.
Ask your real estate agent to recommend any advice on how to make your home as appealing as possible. Selling your home at the right price is possible if you follow these simple guidelines.